1:1 Jurassic World: Fallen Kingdom Life-size Statue Baby Blue Toynami
"You know me."
When the Jurassic World: Fallen Kingdom trailer first premiered, the scene that probably caught your eye the most was the flashback sequence involving Blue and Owen when Blue was barely a hatchling. Blue has arguably been the fan favorite of the new Jurassic World franchise, and a favorite of the team at Chronicle Collectibles as well. So, it gives us great pleasure to present our first collectible from Jurassic World: Fallen Kingdom - 1:1 Baby Blue.
This life-size statue of Baby Blue was made using the same digital files from Industrial Light & Magic as you see in the film, making this the most screen-accurate Baby Blue you will ever find. This 1:1 scale statue will surely make for a show-stopping centerpiece to any Jurassic Park fan's collection and will be instantly recognizable to your guests, co-workers, friends, and family. In other words, pretty much anyone who ventures out to the megaplex to see this summer's hottest blockbuster will know exactly what you have and you'll be the absolute envy of them.
Discover the fun you're going to have with this statue as you recreate the scene where Owen plays with Baby Blue. We fully anticipate lots of pictures will pop up on social media of fans posing with our 1:1 Baby Blue statue in a variety of settings, limited only by fan creativity.
Don't miss this chance to bring Baby Blue home to your collection!
Specifications:
•Dimensions: Approx. 24" tall x 37.5" long x 13" deep
•Weight: approx. TBD
•Made using direct digital assets from Industrial Light & Magic.
•Crafted primarily out of fiberglass for weight considerations; eyes are premium acrylic.
•Comes on an elegant smooth black base.
•Licensor: Jurassic Park, Jurassic World and all related marks and logos are trademarks and copyrights of Universal Studios and Amblin Entertainment, Inc. Licensed by Universal Studios. All Rights Reserved.
SKU: 1:1 Jurassic World: Fallen Kingdom Life-size Statue Baby Blue Toynami-106759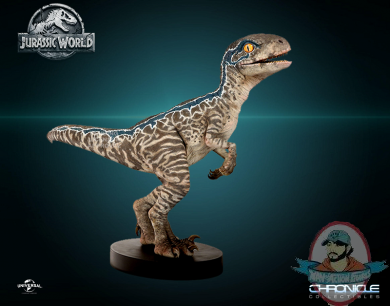 Tags: