1:18 Scale 2021 Ford Mustang Mach 1 by Acme
This listing is for a 1:18 Scale 2021 Ford Mustang Mach 1 Acme
After 17 years, Ford has brought back the Mach 1, and they absolutely nailed it! The 2021 Mach 1s feature the same 480 horsepower 5.0 V8 from the Bullitt Mustang and tons of great parts from the Shelby GT350 parts bin. Each Mach 1 comes standard with the 6 speed manual transmission, multiple suspension pieces, body accent and spoiler pieces and more from the Shelby GT350. There are seven standard body colors available plus one new color that can be ordered with an exclusive appearance package. That one color is Fighter Jet Grey! This package includes orange trim around the satin black side and hood stripes, orange Brembo brake calipers and orange interior accents.
Pre-Order!
Available: 3rd Quarter, 2021
SKU: 1:18 Scale 2021 Ford Mustang Mach 1 by Acme-122337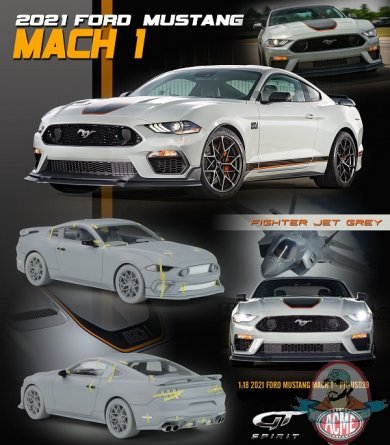 Tags: