1/4 Scale Metroid Prime Samus Light Suit Statue by First 4 Figures
METROID PRIME SAMUS LIGHT SUIT 1/4 SCALE STATUE
With its sleek design and resistance to the elements of Dark Aether, the
Light Suit was one of the most powerful and important tools at Samus'
disposal as she set out on a mission to destroy the Dark Dimension. The
suit was powered by the Light of Aether and was the result of both
Luminoth and Chozo technology.
First 4 Figures is happy to present a new series of Metroid Master Arts
statues, starting with the Master Arts Metroid Prime 2 Light Suit. Samus
is holding her arm cannon up, ready to fire as she storms the Sky Temple
to defeat the Emperor Ing. She's been rendered at a jaw-dropping 1/4
scale to encapsulate immense power that the Light Suit holds. She towers
at 20 inches tall.
Comes in deluxe full color packaging, hand numbered base, and includes
an authenticity card.
SKU: 1/4 Scale Metroid Prime Samus Light Suit Statue by First 4 Figures-77635
Product Warnings:
Subject to final approval and images shown are representative only and final product may vary.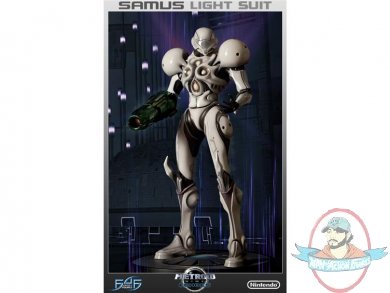 Tags: