1/5 Teenage Mutant Ninja Turtles Out of the Shadows Bebop Statue
"Y'all got jokes, huh?" – Bebop
New York City. An old menace returns. New mutations arise. The ultimate showdown approaches. Our heroes must rise up again to save the city they love, even if it means exposing themselves for who they truly are… Teenage Mutant Ninja Turtles.
Inside every human, there's a dormant animal gene. Bebop, a criminal wanted for evading police, grand theft, mayhem and aggravated assault, is transformed… his inner animal unleashed. Bebop is quick to love his new piggy form, and he's all warthog attitude. Bebop may be a pig, but he's no Babe!
Bebop and Rocksteady kick off a new line of statues from T.M.N.T. Out of the Shadows. The team at Vault Productions has crafted these highly detailed sculptures using the digital models from the feature film. Each statue is hand painted and looms large at approximately 1:5 scale. Bebop and Rocksteady feature real chain accessories.
SKU: 1/5 Teenage Mutant Ninja Turtles Out of the Shadows Bebop-90657
Product Warnings:
Non-Refundable Deposit:$37.00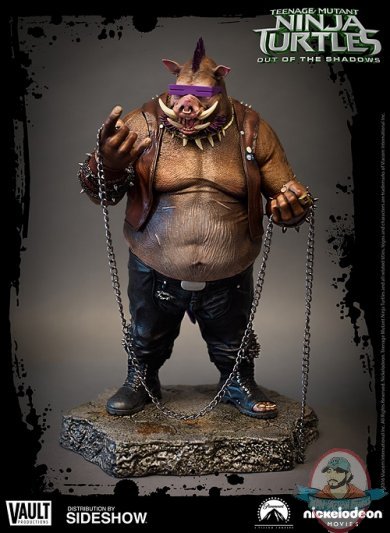 Tags: