Alien Bust Set Scaled Replica by Sideshow Collectibles
Just in time for Spooktacular 2011 is the Alien Bust Set, featuring four different Alien designs spanning the legacy of the Alien films. Crafted in approximately 1:8 scale, each bust stands approximately six inches tall and is individually painted and finished, each with its own unique quality and detail that is the trademark of a handcrafted Sideshow Collectibles product. The Alien Bust Set is the perfect addition to any sci-fi or Alien legacy display.
First designed by H. R. Giger in 1979, the menacing star of Alien was a unique xenomorphic being. One adult alien was able to single-handedly eliminate the crew of the Nostromo, who had the unfortunate distinction of discovering the species on a seemingly abandoned planet. Only one member of the crew, Ellen Ripley, survived.
SKU: Alien Bust Set Scaled Replica by Sideshow Collectibles-59831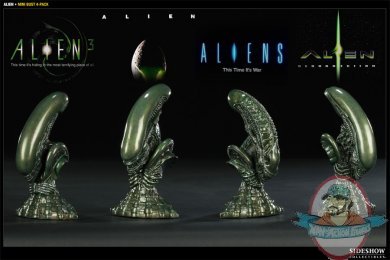 Tags: