Assassins Creed Series 4 Set of 3 Figures McFarlane
This Listing is for a set of 3:
McFarlane Toys continues its partnership with Ubisoft to create action figures from the blockbuster Assassin's Creed® series of video games. The Assassin's Creed series tells the story of a heroic order of Assassins, fighting a conspiracy that spans thousands of years. This innovative entertainment franchise takes fans on an adventure through world history -- from the Crusades, to the Italian Renaissance, to the American Revolution, to the Golden Age of Piracy, and beyond.
Assassin's Creed Series 4 brings collectors more great new figures from the blockbuster Assassin's Creed video game franchise. Series 4 includes all-new characters, outfits, and weapons from the next chapter in the Assassin's Creed saga, Assassin's Creed Unity and Assassin's Creed Rogue.
SHAY CORMAC
What happens to an devout Assassin when his faith is completely stripped away? Assassin Shay Cormac turns Templar to take his revenge on his former Assassin Masters, after they destroy an entire city searching for a Piece of Eden. Released in Fall 2014, Assassin's Creed Rogue was the first game ever to have fans play as a Templar lead character killing any previous Assassin brethren that got in his way! During the Seven Years' War, Shay Cormac was known to be a skilled sea-faring captain, an excellent swordsman and an efficient killer with dual wielded weapons. Shay action figure comes equipped with a pistol, air rifle, and sword!
ARNO (DESIGNED BY TODD)
As the lead assassin in Assassin's Creed Unity, Arno Dorian always needs to be prepared for every combat situation in Paris, France! Equipped with an outfit designed by award-winning artist Todd McFarlane, this new version of Arno is ready for anything the French Revolution can throw at him! Our Arno figure comes with an ornate one-handed sword, only wielded by the most dedicated Assassins and a pistol!
EAGLE VISION ARNO
When danger hides behind every corner in the Parisian streets, Assassin Arno Dorian has a unique advantage over each opponent he fights. Blessed with a rare sixth sense, Arno is able to pinpoint even the most cunning enemies with his "Eagle Vision" ability! When activated, Eagle Vision instinctively shows his enemies and allies in a variety of different colored glows, as well as a blue glow for Arno himself. This is the first time ever, that McFarlane Toys has created an Eagle Vision Assassin! Arno is equipped with a pistol, and French sword!
SKU: Assassins Creed Series 4 Set of 3 Figures McFarlane-84361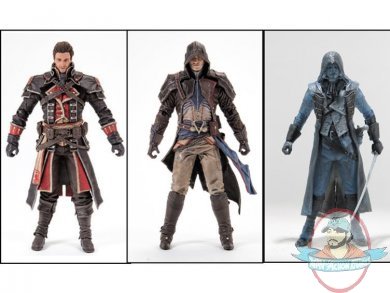 Tags: