Batman Arkham City Harley Quinn Statue Prime 1 Studio 907447
"Oh, no! You're all dead. Who's gonna save Batman now?"
Sideshow and Prime 1 Studio are proud to present the Museum Masterline Series Harley Quinn from the 2011 Game of the Year: Batman: Arkham City.
This 1:3 scale statue features one of the main villains of the timeless action-adventure masterpiece - Harleen Quinzel. Harley is a master of acrobatics that uses her madness and unpredictable behavior as her weapon. Believing that she is the lover of The Joker, she will do anything he commands. In Batman: Arkham City, Harley Quinn is desperate to find the cure for The Joker and she challenges Batman as a major threat throughout the entire game.
Get ready to step into madness! Harley Quinn stands 23 inches tall in a visually-striking anarchy-style pose. She holds her deadly bat ready to take down B-man. She has her signature hammer on the back of the chair. Featuring an iconic, more realistic take on the original costume from the video game. She is ready for anyone! Her portrait has been sculpted with the highest attention to detail making this the most accurate representation of Batman: Arkham City Harley Quinn on the market!
The Psycho Queen sits on her throne with the base depicting many elements from the video game. The center features a heart with her engraved initials. On the base you can also display two plush-toy like attachments that resemble Joker or Harley, allowing you to recreate Harley's world to your creative liking.
Gorgeous. Powerful. Chaotic. The combination of Gotham's Jester and the highly detailed 3D-modeling brings the best Harley Quinn statue to your collection. A must-have for Arkham series fans!
SKU: Batman Arkham City Harley Quinn Statue Prime 1 Studio 907447-120871
Product Warnings:
Because of the size of this item we can only ship to certain countries.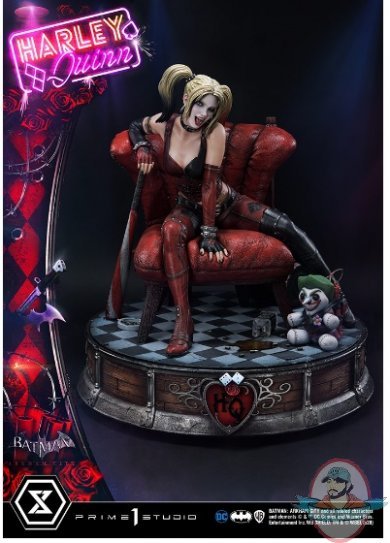 Series 1 Review
Series 2 Review
Series 3 Review