Court of the Dead Skratch Statue Sideshow Collectibles 700114
"Skratch is unencumbered by the burdens of The Underworld. He is as I one day hope to be."
– Oglavaeil, The Executioner
Sideshow dog-gone excited to present the Skratch Statuette from our new Court Critters Collection. Skratch is an original creature from Sideshow's own dark fantasy horror property, the Court of the Dead.
Skratch is a playful hound and the faithful companion to Oglavaeil, Death's Executioner. Due to the dark duties he is obligated to fulfill, Oglavaeil is often innardlorn, drawn into his own tempestuous thoughts. Skratch keeps him grounded and present in the ever-fleeting moments of joy that punctuate his otherwise burdensome work as the Underworld's executioner.
The highly-detailed Skratch Statuette depicts the Underworld hound on his best behavior, sitting obediently. His prominent spine arches as he curls his tail around his crimson body. He is eager to play fetch with an etherea-infused bone that he must have dug up (likely much to Oglavaeil's chagrin) in some nearby graveyard. You can see the etherea blue smudging his paws and tail. Even his eyes are aglow, flaming with ethereal excitement.
"I've always seen Oglavaeil as a somber character with a heavy purpose assigned to his existence. Skratch is a great companion because he adds whimsy and playfulness to Oglavaeil," said Sr. Concept Artist Matt Molen, who sculpted Skratch.
You don't have to dig deep to know that the Court Critters: Skratch Statuette will add whimsy to your Court of the Dead collection.
SKU: Court of the Dead Skratch Statue Sideshow Collectibles 700114-113370
Product Warnings:
Limited 1 piece per person.No coupons or discounts can be applied to this item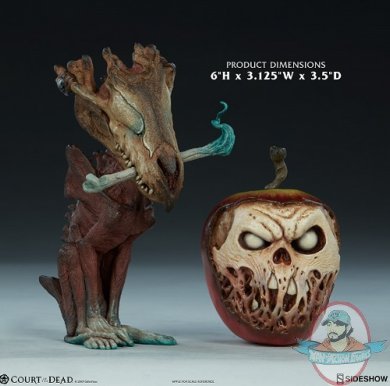 Tags: