Dc Comics The Batman Who Laughs Art Print Sideshow 500742U
"You see… a Batman who laughs… is a Batman who always wins. HAHAHAHAHAHA!"
Sideshow presents The Batman Who Laughs Fine Art Print by artist Ben Oliver.
The cowl of a hero and the smile of a villain- The Batman Who Laughs is a terrifying hybrid of Bruce Wayne and his greatest foe The Joker. Warped by Joker toxin, this smiling sadist emerges from Earth-22 through the dark multiverse to torture the Justice League in the acclaimed Dark Knights: Metal storyline from DC Comics. Ben Oliver's portrait of the Batman Who Laughs captures every chilling inch of his grim visage, so horrifyingly detailed that you can practically hear the laughter escaping his bloodstained grin.
Originally created as a variant cover for The Batman Who Laughs #2, written by Scott Snyder for DC Comics, this terrifying illustration is now available for fans in a fine art collectible format. Each The Batman Who Laughs Fine Art Print features an authorized, automated artist signature and is embossed with a Seal of Authenticity as a part of the limited edition of 400 pieces.
Make your DC Comics collection a bit more metal and bring home The Batman Who Laughs Fine Art Print by Ben Oliver today.
Print details:
◦Officially licensed by DC Comics
◦Limited edition of 400
◦18 x 24" fine art giclée print, approx 22 x 28.50" with frame
◦100% cotton, acid-free, matte Museo Rag 300GSM
◦Epson archival inks
◦a digital artist signature
◦Embossed seal of authenticity
About the Artist:
Eisner-award nominated Ben Oliver broke into comics with a brief stint at 2000ad before joining young publishing upstarts at Com.
He moved into the American market in 2003 and has since worked for both DC and Marvel Comics on titles as varied as The Authority, Vigilante, The Losers, Ultimate X-Men, Young X-Men, Ghost Rider, Batwing and Action Comics to name a few.
More recently Ben worked on Multiversity – The Just, with Grant Morrison. Now working with Andy Diggle at Dynamite on the upcoming series Control. As well as comics, Oliver has provided advertising, illustration and concept artwork for various media companies.
SKU: Dc Comics The Batman Who Laughs Art Print Sideshow 500742U-117317
Product Warnings:
Non coupons or discounts can be applied to this item.Limited 1 piece per person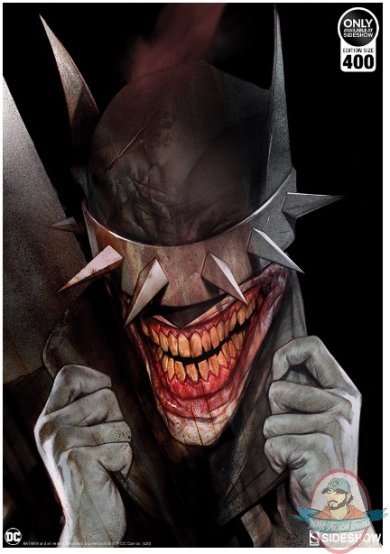 Tags: