Dc Comics Lois & Clark: Fireworks!! Art Print Sideshow 501131U
"Keep talking, Smallville. I love it when you crusade."
Sideshow presents the Lois & Clark: Fireworks!! Fine Art Print by artist Ryan Sook.
This picture-perfect print captures the spark between Lois Lane and Clark Kent as they share a kiss in front of the onlooking staff of the Daily Planet. Light from above outlines the classic comic book couple and illuminates a fantastic 4th of July edition of the Daily Planet Newspaper that reads, "Fireworks!!".
Originally published as card art for the VS System Trading card game, this illustration has been specially remastered by the artist in a fine art collectible format. Each Lois & Clark: Fireworks!! Fine Art Print features an authorized, automated artist signature as well as an embossed Seal of Authenticity as a part of the limited edition of 400 pieces.
Get the story of the century when you add the Lois & Clark: Fireworks!! Fine Art Print by artist Ryan Sook to your DC Comics collection.
Print details:
◦Officially licensed by DC Comics
◦Limited edition of 400
◦18 x 24" fine art giclée print, approx 22 x 28.5" with frame
◦100% cotton, acid-free, certified archival matte Museo Rag 300GSM
◦Epson archival inks
◦a digital artist signature
◦Embossed seal of authenticity
◦*Print is wrapped and hand-rolled in acid free paper, inserted in a protective plastic sleeve, and shipped in a 4" diameter tube*
About the Artist:
Ryan Sook has been drawing comics for more than twenty years. Creating work for every major publisher and drawing many of comics most enduring heroes. Including Superman, Batman, Wonder Woman, Spider-Man, Captain America, Hellboy and more. He has also collaborated with some of the industry's most notable creators like Mike Mignola, Grant Morrison, JM DeMatteis, Dave Gibbons and Ed Brubaker to name a few. Currently he is the artist on DC's Legion of Super Heroes with writer Brian Michael Bendis.
Pre-Order!
Available: 3rd Quarter, 2022
SKU: Dc Comics Lois & Clark: Fireworks!! Art Print Sideshow 501131U-118247
Product Warnings:
Non coupons or discounts can be applied to this item.Limited 1 piece per person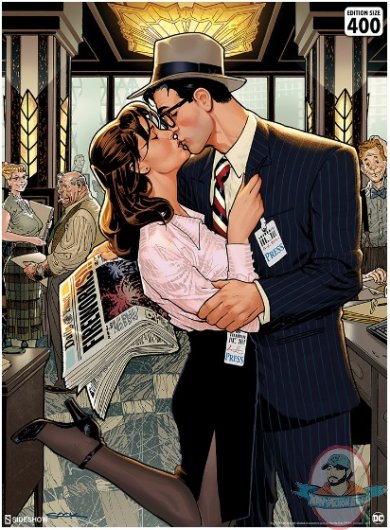 Tags: