Fantastic Worlds The Art of William Stout HC Insight Collectibles
From his cult movie posters to his epic paleoart, celebrate the life and work of William Stout with this stunning monograph featuring the most iconic imagery and an exclusive print.
Muralist, illustrator, comics artist, poster designer—William Stout has created a body of work that transcends genre, medium, and industry during his astonishing forty-year career. He has designed album covers for the Who and the Rolling Stones, worked on films ranging from Ralph Bakshi's Wizards to Guillermo del Toro's Pan's Labyrinth, and brought the world of the dinosaurs to life through highly acclaimed paleoart.
Now Stout fans can relive the life and career of their favorite artist with this breathtaking limited edition monograph, which features a special clamshell cover, and exclusive print. Curated by the artist himself, Fantastic Worlds: The Art of William Stout bursts with the most iconic imagery in Stout's oeuvre. From his student years to his robust career as a painter, illustrator, and more, Fantastic Worlds is the ultimate Stout retrospective—the perfect way for fans to commemorate the extraordinary work of a one-of-a-kind artist.
Pre-Order!
Available: 4th Quarter, 2021
SKU: Fantastic Worlds The Art of William Stout HC Insight Collectibles-109491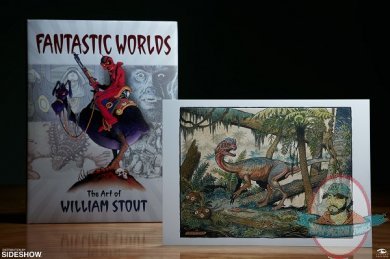 Tags: