Futurama Series 9 Wooden Bender 6" Toynami New
They're out of this world… and the next millennium, too! Each outrageous action figure in this fabulous Futurama series stands about 6-inches tall, features multiple points of articulation and character-specific accessories, and comes individually packaged on a blister card. Grab these colorful characters and bring them back to Earth and present time in your home or office. You and your friends will be glad you did.
Bender is stranded on a lonely island and soon runs out of power in the episode "Obsoletely Fabolous." He is rescued by a group of obsolete robots who refused to get upgrades and defy modern technology, instead they embrace nature. Bender soon adopts their ways and goes even further - he decides to get a downgrade. He emerges from it as a steam-powered unit with a wooden body. He decides it is time to declare war on technology.
SKU: Futurama Series 9 Wooden Bender 6" Toynami New-52288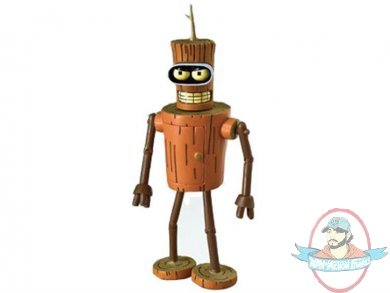 Tags: