Ghostbusters Art Print Sideshow 500968U
"Who you gonna call?"
Sideshow presents the Ghostbusters Fine Art Print by artist Paul Shipper.
Like a proton pack catches ghosts, Paul Shipper captures all of the action, detail, and paranormal comedy of the cult classic Ghostbusters in this highly detailed illustration featuring everyone's favorite heroes, villains, and ectoplasmic annoyances. Egon Spengler, Peter Venkman, Ray Stantz, and Winston Zeddemore all have their sticks in hand, ready to smoke some specters like the runaway Slimer while the Ecto-1 speeds through the streets. Beneath them is the possessed pair, Dana Barrett and Louis Tully, accompanied by Zuul and Vinz Clortho the terror dogs, as they open the gates to the Temple of Gozer, unleashing ghostly chaos on all of New York City.
Each Ghostbusters Fine Art Print features an authorized, automated artist signature and an embossed Seal of Authenticity as a part of the limited edition of 350 pieces. With expert likeness and fidelity to the film's style, this vibrant tribute to the inimitable Ghostbusters is a must-have for fans of the beloved movie!
Whether you collect spores, molds, and fungus or gallery-worthy artwork, there's only one name to call when it comes to combating the supernatural- bring home the Ghostbusters Fine Art Print by Paul Shipper today!
Print details:
◦Officially licensed by Sony
◦Limited edition of 350
◦18 x 25" fine art giclée print, approx 22 x 29.75 with frame
◦100% cotton, acid-free, certified archival matte Museo Rag 300GSM
◦Epson archival inks
◦a digital artist signature
◦Embossed seal of authenticity
◦*Print is wrapped and hand-rolled in acid free paper, inserted in a protective plastic sleeve, and shipped in a 4" diameter tube*
About the Artist:
Paul Shipper is a freelance illustrator best known for producing key art and imagery for film, entertainment and advertising. Born in Manchester, his formal education ended in 1997 with a BA in illustration and Animation from MMU. Inspired from a young age by the one sheets in the cinema lobby and the posters on his bedroom wall, Paul fell in love with the craft and beauty of the illustrated film poster. Since the mid-to-late 90's he has been on a self proclaimed mission to bring the beloved 'old school' illustrated movie posters he grew up with back to the cinema... and beyond.
Since then Paul has gone on to create illustrative art used by studios such as CBS, Disney, El Rey, Fox, ITV, Lucasfilm, Marvel, Netflix, Universal, and Warner Bros, including official Key Art art for Avengers: Infinity War, Star Wars: The Last Jedi, Ready Player One. Additionally, he has created collectors edition art for the BluRay covers of Shout Factory, Arrow Video, MGM; cover art for Empire Magazine; co-created licensing art for Star Trek Discovery and album artwork for the band Muse.
He has been publicly recognised for his work and awarded numerous prestigious awards, including the Key Art Award in 2014 and an LCS Award for excellence in Illustration in 2015. In 2017, Paul became an honorary member of the 501st and UK Garrison in recognition of his artistic contributions to the Star Wars Universe.
Pre-Order!
Available: 2nd Quarter, 2022
SKU: Ghostbusters Art Print Sideshow 500968U-118283
Product Warnings:
Non coupons or discounts can be applied to this item.Limited 1 piece per person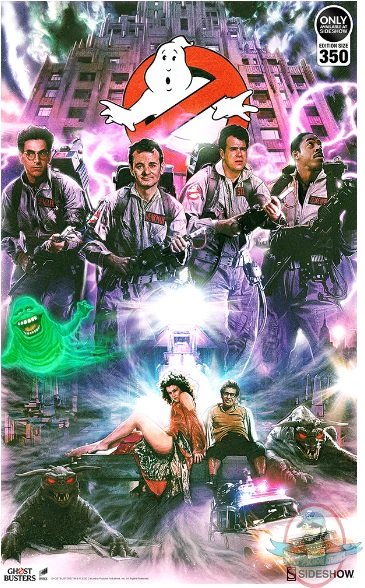 Tags: