GOW Kratos & Atreus Ivaldi's Deadly Mist Armor Set Prime 1 906832
"Close your heart to it. On our journey, we will be attacked by all manner of creature. Close your heart to their desperation. Close your heart to their suffering. Do not allow yourself to feel for them. They will not feel for you."
Sideshow and Prime 1 Studio are excited to present the second God of War 2018 Statue Kratos & Atreus Ivaldi's Deadly Mist Armor Set based on original references from the video game. God of War is an action-adventure video game developed by Santa Monica Studio and published by Sony Interactive Entertainment (SIE) on April 20, 2018.
Kratos – the protagonist of the God of War series and his son Atreus go on a journey together, to spread the ashes of Atreus's mother at the highest peak of all the nine realms. They face danger in their path as they are forced to fight many enemies. One of them is Baldur – the main antagonist of God of War of whom the statue has been created as well.
The Kratos & Atreus Statue stands approximately 28.5 inches tall and features the highly detailed bodies covered in the New Ivaldi's Deadly Mist Armor Set. The equipment is made with accuracy and precision. A LED light-up function is added to Mimir's eyes.
Display these characters next to the Baldur & Broods Statue for an amazing battle diorama.
SKU: GOW Kratos & Atreus Ivaldi's Deadly Mist Armor Set Prime 1 906832-118760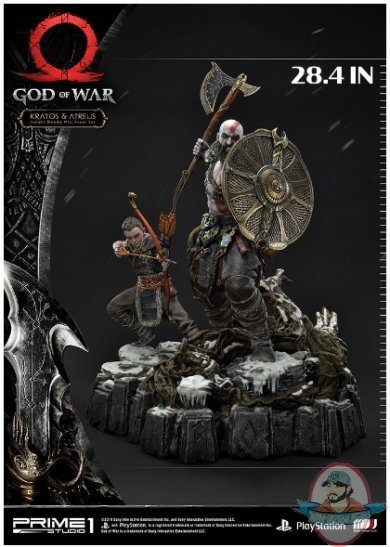 Tags: