Harry Potter The Wand Collection Book Insight Collectibles
A collector's edition keepsake that gives a comprehensive look at the beloved wands of the Harry Potter films, featuring an astonishing scale model of the Elder Wand.
Striking and comprehensive, Harry Potter: The Wand Collection, Collector's Edition is the must-have set that wand-wielding fans of Harry Potter have been waiting for.
About the Author:
Monique Peterson, Author: Monique Peterson is a writer and producer of books, film, broadcast, and online media. Her works include titles on film, art, science, history, sports, and pop culture for The Walt Disney Company, National Geographic, Discovery Channel, Random House, and Scholastic. She is currently writing a novel for young adults.
Jody Revenson, Contributor: Jody Revenson has written extensively about the Harry Potter films, with her most recent books being J.K. Rowling's Wizarding World: Movie Magic: Volume One and Harry Potter: The Artifact Vault. In her first foray into the wizarding world, she contributed to the New York Times best sellers Harry Potter: Film Wizardry and Harry Potter: Page to Screen.
Pre-Order!
Available: 2nd Quarter, 2020
SKU: Harry Potter The Wand Collection Book Insight Collectibles-109287
Product Warnings:
Non-Refundable Deposit:$20.00.No Coupons or Discounts can be applied to this item.Limited 1 piece per person.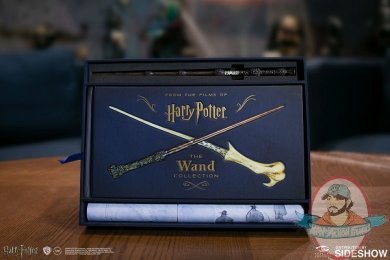 Tags: