Hot Toys Superman Christopher Reeve 1/6 Scale Action Figure
Amid high anticipation, Sideshow Collectibles and Hot Toys are proud to present the Superman 12-inch Figure from the 1978 classic superhero film Superman. The movie-accurate Superman collectible is specially crafted based on the image of Christopher Reeve as The Man of Steel, highlighting the authentic head sculpt, movie-accurate costume and detailed light-up figure stage imitating the Fortress of Solitude.
The Superman 12 inch Figure features:
Authentic and detailed, hand-painted likeness of Christopher Reeve as Superman in the Superman movie
Realistic facial expression with detailed wrinkles and texture
Detailed hair sculpture
Stands approximately 30 cm tall
Newly sculpted muscular body with over 30 points of articulation with extra muscular upper body, neck and chest
Three (3) pairs of interchangeable palms including:

One (1) pair of relaxed palms
One (1) pair of fists
One (1) pair of palms for fighting

One (1) set of Superman costume including one-piece blue costume with Superman logo in chest, yellow belt, red shorts and red cape
One (1) pair of red boots
Fortress of Solitude themed figure stage
Figure stand with Superman nameplate and movie logo
Artists:
Arnie Kim
JC. Hong
Yulli
Joseph Tsang
SKU: Hot Toys Superman Christopher Reeve 1/6 Scale Two Face Figure-55729
Product Warnings:
No discounts or coupons can be applied to this item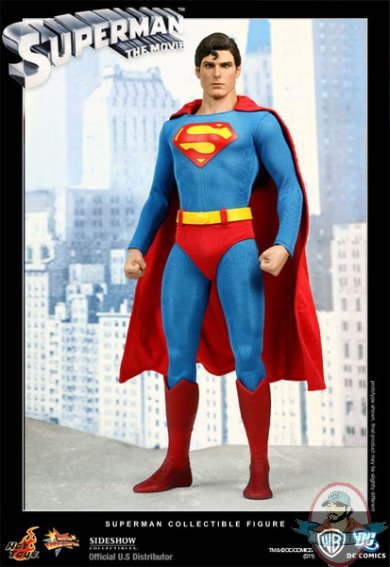 Tags:
First introduced in the 1930's, the character of Superman has appeared in hundreds of comic books and cartoons; however, it wasn't until 1978 that Superman really came to life in 24-year-old Christopher Reeve. As the youngest of eight actors to have played the role, but also the tallest, the towering 6'4" Reeve was anything but intimidated. He brought a one-dimensional comic book hero to a flesh-and-blood man who embraced and embodied a role that would become his most memorable acting experience, both onscreen and off.
When asked about the uniqueness of the character, Reeve once said, "what makes Superman a hero is not that he has power, but that he has the wisdom and the maturity to use the power wisely." Over the course of filming four Superman movies from 1978 to 1987, Reeve experienced firsthand the power of the character and the everyday belief in a good guy, one who will always be there to save the day. It's just this belief that had Reeve responding to the dying wishes of adults and children alike: when all hope is gone, call on Superman.
With regards to his alter ego Clark Kent, Reeve went so far as to defend his portrayal of the bumbling nerd by saying if there wasn't such a difference in their characters, "it would just be the same guy in glasses." Ironically, many people believed that Reeve and his character were one in the same, so much so that even after his tragic horseback-riding accident in 1995 people continued to believe the man of steel could overcome anything, even paralysis. However, it was not meant to be for Christopher Reeve. The blue-eyed actor-extraordinaire succumbed to heart failure in 2004, forever to be remembered for his work as the iconic superhero.
"It was my privilege to be the onscreen custodian of the character in the 70's and 80's. There will be many interpretations of Superman, but the original character created by two teenagers in the 30's will last forever." – Christopher Reeve.