King Llane Epic Series Warcraft Premium Statue Damtoys 903368
DAMTOYS officially releases the latest item – from Legendary Pictures production and Blizzard Entertainment classic video game adaptation, Warcraft movie – the wise, brave, dutiful and self-sacrificial King Llane Premium Statue!
A crucial link between the Alliance and all the clans, King Llane is an important figure in the movie. This product emphasizes the glorious scene before the leader set off. The element of the Alliance is strong in this character. His eyes filled with resolution and his devotion to the people of Azeroth. The male lion at his feet represents the inexorable will of the Alliance. This war will be remembered. For the Alliance!
Based on the movie settings and props of the character, our best team, equipped with top production technology, has produced an exquisite King Llane statue that is about 70cm tall. For the costume, real fabric is used for screen-accurate textures and colors. The flag, also made with real fabric, bears the likeness of the crest of the Alliance. The head sculpt, which uses a complex hair implantation process, looks and feels thoroughly accurate and faithful to the movie character!
DAMTOYS Epic Series King Llane Premium Statue – bringing you an all-new experience of stunning visuals and should not be missed!
SKU: King Llane Epic Series Warcraft Premium Statue Damtoys 903368-104000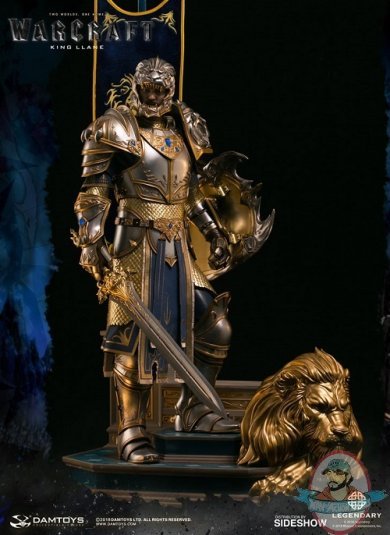 Tags: