Louis De Funés Statue by Infinite Statue 904595
"La Grande Vadrouille" ("Don't look now… We're being shot at!") is undoubtedly Louis De Funès's best known film (in addition to being one of the greatest successes of French cinema) where he was paired with Bourvil,another myth of the French comedy, and that made them both real international stars.
The contrast between the simple painter Bourvil and the aristocratic director De Funès created an explosive mixture of comic remained as famous and loved as you loved it before. Working on the film, we decided to start with the legendary Stanislas Lefort, choosing to represent him in his two "versions" exactly as it appears in the film: the great conductor with the legendary white wig (a clear tribute to the great Karajan) and without, or the man fleeing the Germans. For this reason the statue is provided with an interchangeable "alternative" head so that it can be obtained both in the Lefort version and in the more familiar De Funès version.
The base of the statue is a tribute to the large balcony of the Opéra Garnier of Paris reproducing with extreme care a part in all the smallest details.
A statue in Limited Edition destined to enter the legend of the great Louis De Funès.
SKU: Louis De Funés Statue by Infinite Statue 904595-111475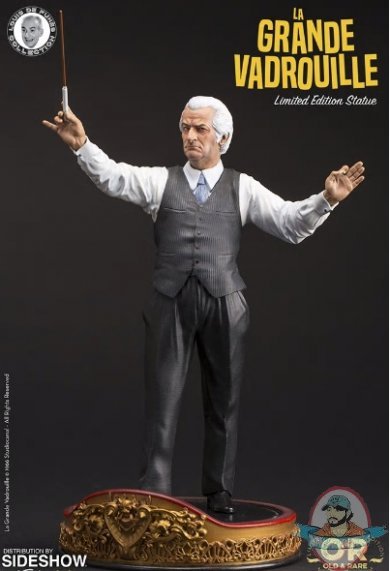 Tags: