Magni Bronzebeard Epic Series Warcraft Premium Statue Damtoys 903382
DAMTOYS is proud to announce their 9th release from Legendary Pictures and Blizzard Entertainment classic video game adaptation, Warcraft movie! The outstanding and kind sovereign of Iron forge - Magni Bronzebeard Premium Statue!
"The snow of Dun Morogh mountain shapes us, the fire of Ironforge steels us. I, Magni Bronzebeard, the Mountain King, will lead us Dwarves to our past glory.
Based on the movie settings and props, Damtoys' best team, equipped with top production technology, has produced an exquisite Magni Bronzebeard statue that is about 65cm tall. This statue consists of Magni Bronzebeard and the anvil base at his feet. Be it the weapon, armor, movement, demeanor, or even the tiny details on the anvil, they are all extremely accurate! Magni Bronzebeard wears a crown on his head and is dressed in splendid attire. For the costume, real fur and genuine leather are combined in production to display rich patterns and textures. The hair implantation process perfectly presents the distinctive beard braids. The built-in LED lights of the anvil base simulate flames, recreating the forging scene in the Ironforge, looking and feeling thoroughly faithful to the movie!
DAMTOYS Epic Series Magni Bronzebeard Premium Statue brings you an all-new experience of stunning visuals!
Comes in two big boxes
SKU: Magni Bronzebeard Epic Series Warcraft Premium Statue Damtoys 903382-104163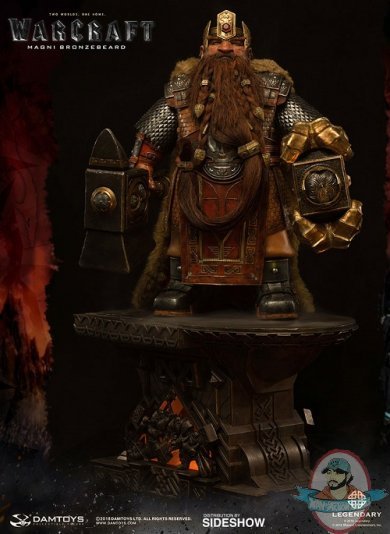 Tags: