Marvel Giant-Size X-Men Art Print Sideshow Collectibles 501192U
"Power such as yours belongs to the world- to be used for the good of all."
Sideshow presents the Giant-Size X-Men Fine Art Print by acclaimed illustrator Adi Granov.
Although they are feared, hated, and misunderstood, the X-Men never stand down and always evolve in the face of hardship. In this detailed composition, fan-favorite comic book artist Adi Granov pays tribute to the iconic cover of Len Wein and Dave Cockrum's legendary debut issue that ushered in a wave of beloved new mutant characters. Professor Xavier's original students- Beast, Angel, Cyclops, Iceman, and Marvel Girl- stand aghast as the next genesis of heroes burst from the page, counting Nightcrawler, Thunderbird, Colossus, Storm, Cyclops, and Wolverine among their numbers.
Originally created as a cover for Marvel's Giant-Size X-Men Tribute #1 (2020) to celebrate the 45th anniversary of Len Wein and Dave Cockrum's groundbreaking X-Men issue, this comic book collectible is available to fans in a stunning fine art format. Each Giant-Size X-Men Fine Art Print features an authorized, automated artist signature and an embossed Seal of Authenticity as a part of the limited edition of 450 pieces.
It's the next evolution of your Marvel collection! Bring home the Giant-Size X-Men Fine Art Print by Adi Granov today.
Print details:
◦Officially licensed by Marvel
◦Limited edition of 450
◦18 x 22" fine art giclée print, approx 22 x 26.50" with frame
◦100% cotton, acid-free, certified archival matte Museo Rag 300GSM
◦Epson archival inks
◦a digital artist signature
◦Embossed seal of authenticity
◦*Print is wrapped and hand-rolled in acid free paper, inserted in a protective plastic sleeve, and shipped in a 4" diameter tube*
About the Artist:
Adi Granov is an illustrator and conceptual designer. His works include the Iron Man: Extremis comic book series, which was an instrumental inspiration in the formation of the Marvel movie universe, his role as a conceptual designer and illustrator on the Iron Man and the Avengers films, as well as hundreds of cover illustrations for many of Marvel's best selling comic books including Spider-Man, Iron Man, The Avengers, X-Men, and many others.
Adi has provided illustrations for Marvel's launch of Star Wars, Darth Vader and Princess Leia comics, as well as painting covers for the re-mastered editions of the original trilogy graphic novels featuring the movie characters.
He designs collectible figures and statues, as well as packaging a licensing illustrations for advertising and promotions and has a long running relationship with video games, having started his career as a concept artist for Nintendo. He illustrated the images for a special edition of the CD release of Opiate by the multi-platinum rock band Tool.
Pre-Order!
Available: 2nd Quarter, 2022
SKU: Marvel Giant-Size X-Men Art Print Sideshow Collectibles 501192U-119760
Product Warnings:
Non coupons or discounts can be applied to this item.Limited 1 piece per person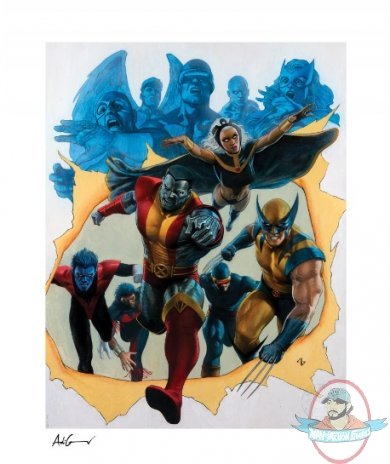 Tags: