Marvel Spider-Man Life-Size Bust by Sideshow Collectibles 400143
"Spider-Man is back- and I'm here to stay!"
Sideshow presents the Spider-Man Life-Size Bust, bringing everyone's favorite webhead to your lineup of Marvel collectibles in epic 1:1 scale.
The Spider-Man Life-Size Bust measures 23" tall and 19.5" wide, putting you face to face with Peter Parker's heroic alter-ego. Sculpted into a nimble and energetic posture, this lifelike life-size collectible is packed with personality as Spider-Man uses his Spidey sense to scout for danger.
Perched on a sleek silver base, all the focus remains on the wall-crawler, whose detailed costume sculpt features black web impressions, a raised black spider-symbol on his chest, and large white eyes on his mask to give him a classic Spidey expression. Hints of blue can be seen on his back, and the entire bust is painted dynamically to emphasize Peter Parker's agile, athletic physique.
Getting the sense you need to switch up your shelf? Web up the Spider-Man Life-Size Bust and add him to your Marvel Comics collection today!
SKU: Marvel Spider-Man Life-Size Bust by Sideshow Collectibles 400143-122701
Product Warnings:
Non coupons or discounts can be applied to this item.Limited 1 piece per person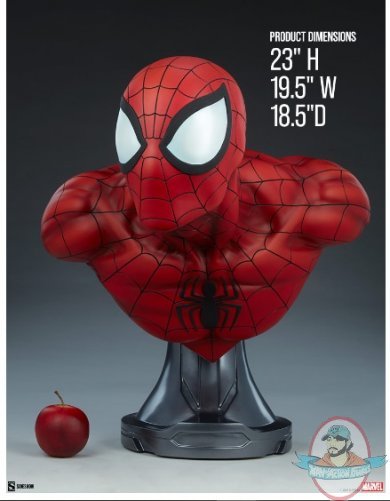 Tags: