Marvel Wolverine vs Blade Art Print Sideshow Collectibles 501184U
"Remind me never to piss you off, man."
Sideshow presents the Wolverine Vs. Blade Fine Art Print by artist Dave Wilkins.
It's a Marvel Comics slash n' clash! Artist Dave Wilkins captures the all-out intensity of fangs versus claws beneath a blood-red moon in this dynamic composition. Blade the Daywalker typically hunts vampires, but for everyone's favorite feral mutant Wolverine, he'll make an exception. Dressed in their dark costumes, these two grizzled fighters are prepared to make this a battle to the undeath- thank goodness for accelerated healing factors!
Originally created as the cover for the Wolverine Vs. Blade Special #1 (2019), written by Marc Guggenheim for Marvel Comics, this action-packed illustration is now available to collectors in a fine art format. Each Wolverine vs. Blade Fine Art Print features an authorized, automated artist signature and an embossed Seal of Authenticity as a part of the limited edition of 400 pieces.
Stake your claim on this epic Marvel match-up and bring home the Wolverine Vs. Blade Fine Art Print by Dave Wilkins today.
Print details:
◦Officially licensed by Marvel
◦Limited edition of 400
◦18 x 24" fine art giclée print, approx 22 x 28.50" with frame
◦100% cotton, acid-free, certified archival matte Museo Rag 300GSM
◦Epson archival inks
◦a digital artist signature
◦Embossed seal of authenticity
◦*Print is wrapped and hand-rolled in acid free paper, inserted in a protective plastic sleeve, and shipped in a 4" diameter tube*
About the Artist:
Dave Wilkins' first encounter with fantasy art was Frazetta's Death Dealer; that was the first spark. With a steady diet of Marvel Comics, Godzilla movies, and inspiration from iconic artists like Simon Bisley and Frank Miller, the path was set. Working odd jobs over the years, and drawing in his spare time, Dave's first professional work didn't come until his late 20's. Working as a bouncer in Southern California, he took a second job at Kinkos to have access to a computer. After hours and during lunch breaks, he taught himself Photoshop, scanned drawings, and learned to color and render. Opportunity struck when a rep from Midway Entertainment saw Dave's work up on the monitors. A month later, he was working in the gaming industry. He currently works as an art director in video games. In his "spare time," he works with DC Comics, Dark Horse Comics, IDW, Marvel, Heavy Metal Magazine, Warner Brothers Entertainment, and Capcom.
Pre-Order!
Available: 3rd Quarter, 2022
SKU: Marvel Wolverine vs Blade Art Print Sideshow Collectibles 501184U-119982
Product Warnings:
Non coupons or discounts can be applied to this item.Limited 1 piece per person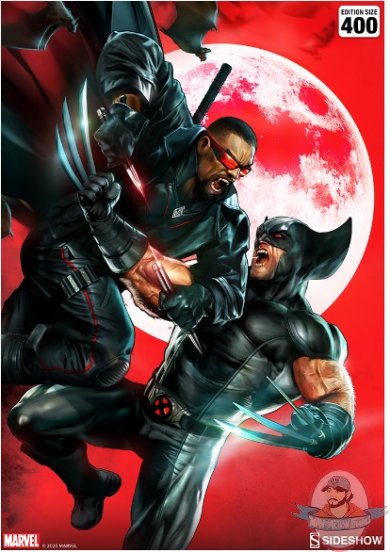 Tags: