Marvel X-Men Magneto Art Print Sideshow Collectibles 501154U
"Our roles are nothing more than how the times choose to cast us."
Sideshow presents the Magneto Fine Art Print by artist Orlando Arocena.
As an Omega-Level mutant and the Master of Magnetism, Magneto finds himself below the squabbles of lesser men, seeking only to protect the future for mutantkind. In this energetic vector art illustration, Orlando Arocena captures the intensity and dynamic movement of Magneto's incredible powers in action, exposing the invisible magnetic fields of the Earth as they bend to his whims. The mighty mutant's red and purple armor glistens as scraps of metal rise around him, mere debris turned into deadly weapons under his influence.
Each Magneto Fine Art Print features an authorized, automated artist signature and an embossed Seal of Authenticity as a part of the limited edition of 350 pieces. This incredibly colorful composition makes a perfect complement to the Magneto Maquette by Sideshow and is a must-have for any X-Men collection.
Test your mettle against this legendary mutant and bring home the Magneto Fine Art Print by Orlando Arocena today.
Print details:
◦Officially licensed by Marvel
◦Limited edition of 350
◦18 x 24" fine art giclée print, approx 22 x 28.50" with frame
◦100% cotton, acid-free, certified archival matte Museo Rag 300GSM
◦Epson archival inks
◦a digital artist signature
◦Embossed seal of authenticity
◦*Print is wrapped and hand-rolled in acid free paper, inserted in a protective plastic sleeve, and shipped in a 4" diameter tube*
About the Artist:
Orlando Arocena is a Mexican-Cuban-American who enjoys delivering creative solutions for some of the world's most renowned brands- while also pursuing his artistic endeavors. He believes that every opportunity is a chance to gain a new experience, a moment to build a relationship and a time to share the rewards of the final result.
Pre-Order!
Available: 3rd Quarter, 2022
SKU: Marvel X-Men Magneto Art Print Sideshow Collectibles 501154U-119848
Product Warnings:
Non coupons or discounts can be applied to this item.Limited 1 piece per person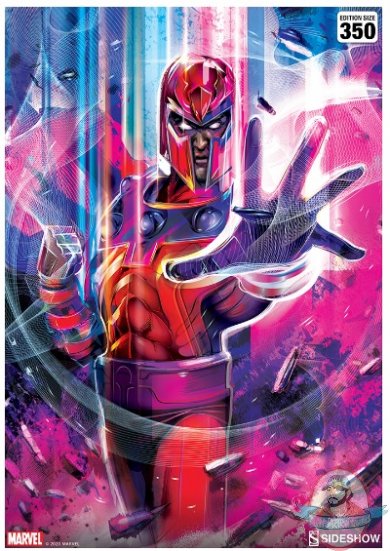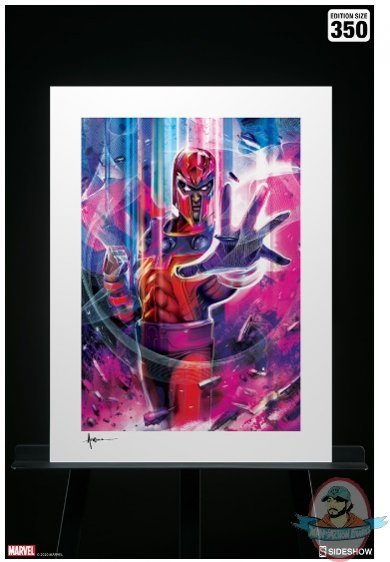 Tags: