Medivh Epic Series Warcraft Premium Statue Damtoys 903342
We're proud to announce – from the Warcraft movie, produced by Legendary Pictures and adapted from the classic video game of Blizzard Entertainment, the 5th release of their Premium Statues – Medivh, a significant figure in the Warcraft history; chaotic, powerful, and wise Mage of the Alliance!
DAMTOYS recreates the moment in the movie when Medivh is casting a spell. On the platform of Karazhan, at the stair that's covered with historical traces, Medivh stands ready to use magic spells. His heart is filled with inner conflict, as impending suffering awaits. Based on the movie settings and props, DAMTOYS best team, equipped with top production technology, has produced an exquisite Medivh statue that is about 69cm tall. This product adopts a new 3D style design, using ancient books, thorns and vines, extinguished candlesticks and the stone steps of Karazhan to create an atmosphere that's like a school of magic. Be it the staff, robe, movement, demeanor, or even tiny details such as the staff texture, they are all extremely accurate! For the costume, real fabric is used for film-accurate texture and color. The head sculpt uses a complex hair implantation process, looks and feels thoroughly accurate and faithful to the movie character!
DAMTOYS Epic Series Medivh Premium Statue brings you an all-new experience of stunning visuals and is definitely not to be missed!
SKU: Medivh Epic Series Warcraft Premium Statue Damtoys 903342-103408
Product Warnings:
We can only ship to certain countries because of size limitations.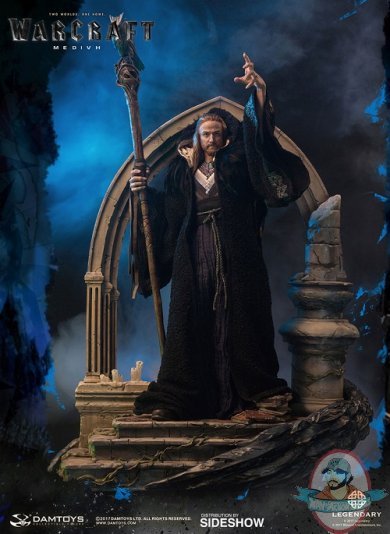 Tags: