The Mighty Nein Fjord Statue Sideshow Collectibles 200610
"You need me more than I need you."
Sideshow presents the Fjord- The Mighty Nein Statue, pledging his sword to the Critical Role collection. This charismatic, limited edition collectible measures 12.25" tall and is fully sculpted in the likeness of the handsome champion and occasional high seas captain.
Though the blade of this Half-Orc Warlock is pledged to a mysterious patron, Fjord is always ready to stand against evil in his adventures alongside the Mighty Nein. He stands with arm outstretched to cast an Eldritch Blast invocation while his black and red cloak billows around him. Proudly wielding Dwueth'var, the Star Razor sword, Fjord is ready to turn the tide of battle with his immense power.
Fjord- The Mighty Nein Statue features a hexagonal faux-stone figure base engraved with the Mighty Nein monogram, complimenting his other teammates in the collection. Sculpted in fantastic detail, this figure is complete with scars, barnacle accents on his armor, and visible tusks that bring this dynamic Critical Role character to life in three dimensions.
Form a pact and bring home the Fjord- The Mighty Nein Statue for your team of Critical Role collectibles today!
SKU: The Mighty Nein Fjord Statue Sideshow Collectibles 200610-121437
Product Warnings:
Non coupons or discounts can be applied to this item.Limited 1 piece per person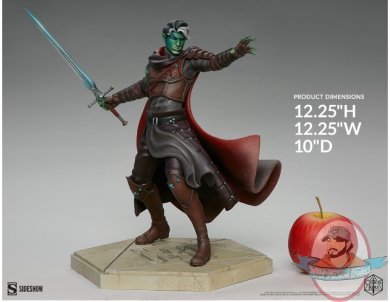 Tags: