Robocop Vs Terminator Series 1 & 2 Set of 4 Figures Neca
Released in late 1993 for the popular 16-bit home console, Robocop vs. The Terminator answered the burning question of sci-fi fans worldwide: which man/machine would win in a fight? The "future of law enforcement" or the actual future?
The T-800 includes a Plasma Rifle accessory, and the Endoskeleton comes with a standing Heavy Machine Gun accessory.
Flamethrower Robocop includes a massive flamethrower accessory with removable "flame spray" attachment.
Fire-Damaged Robocop is partially covered in sculpted flames and comes with rocket launcher and laser pistol accessories.
Figures are fully articulated and stand approximately 7" tall.
SKU: SDCC Robocop Vs Terminator Series 1 & 2 Set of 4 Figures Neca-77467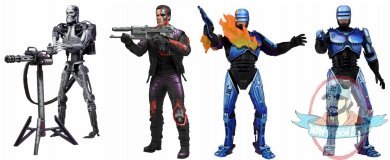 Tags: