Yu Gi Oh One Coin 10 Piece set by Kotobukiya
A KOTOBUKIYA Japanese import! Your favorite characters from the world-famous manga and anime series are coming to you in adorable Yupon style YU-GI-OH! DUEL MONSTERS ONE COIN MINI FIGURES! These little guys even let you recreate some of the most memorable moments from the series with special dialogue plates that connect to their bases; each figure comes with two different plates! The figures in this set include:
Honda Hiroto
Kaiba Seto
Kaiba Mokuba
Masaki Anzu
Bakura Ryo
Yami Yugi
Muto Yugi
Jonouchi Katsuya
Red Eyes Black Dragon
"Secret" Figure!
You'll have plenty of fun setting up the miniature figures and assigning them their dialogue plates, and their unique illustration bases can be arranged to form the symbol of friendship! While the set is sold in individual blind boxes, each container has a full collection of figures. Each 2 - 2 ½ inch tall figure features intricate sculpting and bold colors to represent the sillier side of these characters, along with a ball-jointed neck to further customize your display!
SKU: Yu Gi Oh One Coin 10PC Bmb Ds -53367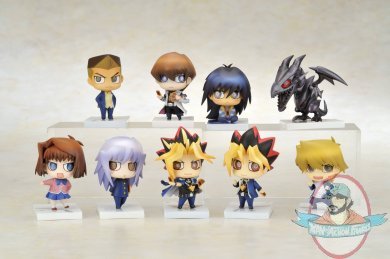 Tags: