Dc Comics The Killing Joke Art Print Sideshow Collectibles 501057U
"Why can't you see the funny side? Why aren't you laughing?"
Sideshow presents The Killing Joke Fine Art Print by artist Ben Oliver after Brian Bolland.
Look into the lens of the maddest man in Gotham with artist Ben Oliver's bold tribute to Brian Bolland's iconic cover to The Killing Joke, the 1988 graphic novel that redefined everything fans knew about The Joker. Dressed in his touristy best, the jester of genocide himself smiles behind the camera, creating a terrifying snapshot of Batman's most dangerously insane foe. The haunting illustration also features several Easter eggs from the original comic cover, including the words 'witz', 'witzmacher', and 'kawalarz' hidden around the lens of his camera, signifying jokes and pranksters in German and Polish. Two versions of the "Oliver after Bolland" signature are also concealed in the composition, on the camera and on The Joker's cufflink.
Each The Killing Joke Fine Art Print features an authorized, automated artist signature and an embossed Seal of Authenticity as a part of the limited edition of 600 pieces. All it takes is one bad day to miss out on this limited-edition print- so don't delay! This DC Comics fine art collectible is an essential addition to any Batman or The Joker-based collection.
Smile for the camera and snap up The Killing Joke Fine Art Print by Ben Oliver for your home display today.
Print details:
◦Officially licensed by DC Comics
◦Limited edition of 600
◦18 x 24" fine art giclée print, approx 22 x 28.5" with frame
◦100% cotton, acid-free, certified archival matte Museo Rag 300GSM
◦Epson archival inks
◦a digital artist signature
◦Embossed seal of authenticity
◦*Print is wrapped and hand-rolled in acid free paper, inserted in a protective plastic sleeve, and shipped in a 4" diameter tube*
About the Artist:
Eisner-award nominated Ben Oliver broke into comics with a brief stint at 2000ad before joining young publishing upstarts at Com.X
He moved into the American market in 2003 and has since worked for both DC and Marvel Comics on titles as varied as The Authority, Vigilante, The Losers, Ultimate X-Men, Young X-Men, Ghost Rider, Batwing and Action Comics to name a few.
More recently Ben worked on Multiversity – The Just, with Grant Morrison. Now working with Andy Diggle at Dynamite on the upcoming series Control. As well as comics, Oliver has provided advertising, illustration and concept artwork for various media companies.
Pre-Order!
Available: 3rd Quarter, 2022
SKU: Dc Comics The Killing Joke Art Print Sideshow Collectibles 501057U-119850
Product Warnings:
Non coupons or discounts can be applied to this item.Limited 1 piece per person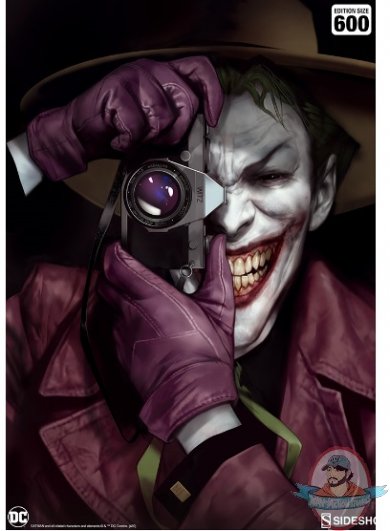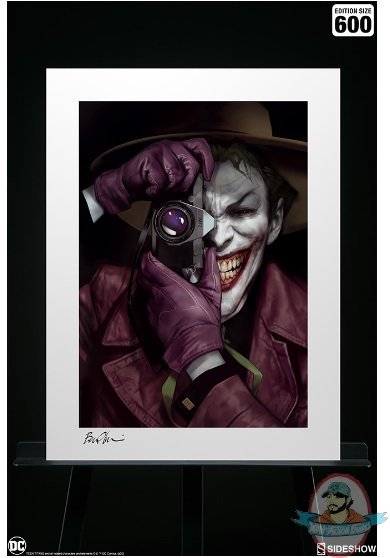 Tags: