Marvel Minimates Series 39 Thor Movie Set of 6 by Diamond Select
A Diamond Select Release! Art Asylum Designs & Sculpts! Diamond Select continues the longest running collector line in toy history! After 37 series of Marvel Minimates, we're getting geared up to tackle the latest Marvel movie - Thor. Thor Movie Miniamtes. The longest running collector toy line ever turns itself over to the Thor movie this month. Featuring the main characters from the next Marvel blockbuster Thor, Loki, the destroyer and Odin, as well as the exclusive Jane (Natalie Portman) and one of the most prevalent movie characters Agent Coulson.
Each Minimate stands 2.5" tall with 14 points of articulation and a variety of removable and interchangeable parts and accessories.
SKU: Marvel Minimates Series 39 Thor Movie Set of 6 by Diamond Select-53428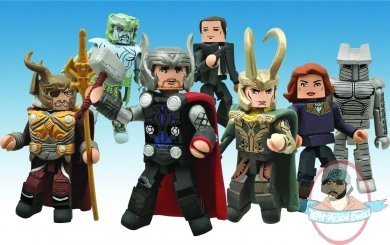 Tags: