NYCC 2017 1/12 Street Fighter V Ryu Brown Version Storm
Storm Collectibles works with Capcom to produce a high quality 1/12 scale action figure for the popular combat game, Street Fighter V.
Ryu is the main character of the Street Fighter fighting series and appears in every SF game, as well as in Street Fighter V. No doubt, Ryu has become one of the most iconic characters in the fighting game genre!
Storm Collectibles brings their 1/6 scale quality into the 1/12 by recreating Ryu, from game to real life, with his signature karate gi with torn sleeves, medium length hair, long headband, fighting gloves, martial arts belt, and bare feet. The figure is approximately 7 inches tall with over 30 points of articulation and gives Ryu the ability to pose in all his special moves: Hadoken, Shoryuken, and Tatsumaki Senpukyaku!
•7 inches (17.8cm)
•From the Street Fighter V game
•Featuring an alternate figure of Ryu
•Includes effect parts to create Hadoken!
•1/12 scale Ryu figure
•Hadoken effect part
•3 faceplates
•4 pairs of hands
•Street Fighter V base with stand
SKU: NYCC 2017 1/12 Street Fighter V Hot Ryu Brown Version Storm-103141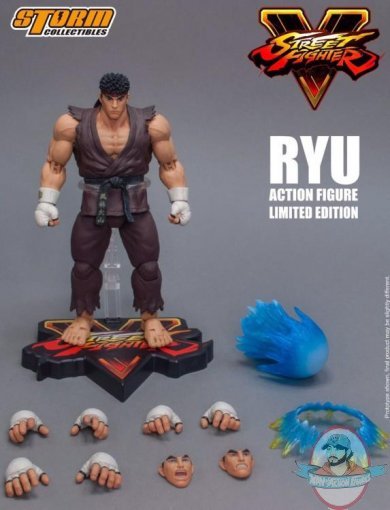 Tags: