Overwatch Genji Sword Replica Blizzard Entertainment
BLIZZARD ENTERTAINMENT, INC
From Blizzard. Life and death balance on the edge of my blade. The death of his father nearly resulted in his own. Transformed into a living weapon by Overwatch, Genji set about the task of dismantling his family's criminal empire. After his mission was completed, he abandoned Overwatch to wander the world. Even he cannot say where his path will lead.This Replica Sword measures 48" x 5" with 1/2" blade. The stand measures 20" x 10.5" x 6.25". Made of PVC, ABS, alloy and electronic chips. Also included are 1 sword sheathe and 1 stand. Sword contains off/on switch to enable light-up features and creates sound upon motion activation. Button on sword handle triggers authentic SFC based on Genji's Ultimate ability. The sword weighs 2.9lbs, the sheathe weighs .8lbs and the stand weighs 1lb. Includes 3 AA batteries (1.5V). For ages 15+, this is not a toy.
SKU: Overwatch Genji Sword Replica Blizzard Entertainment-108609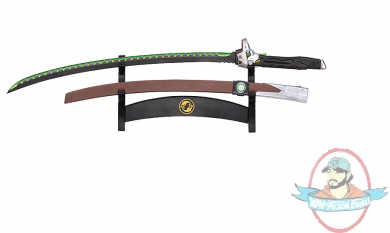 Tags: