Shining Wind Blanc Neige Ani-Statue Swim Suit Version by Kotobukiya
A KOTOBUKIYA Japanese import! Continuing the hit collection of beauties from "Shining Wind" (based on 2007's PlayStation 2 game and the latest in the "Shining" series of over 18 games and an anime series) comes the first swimsuit character, BLANC NEIGE SWIM SUIT VERSION! The fan-favorite "Ice Witch" known for her charm as well as her sarcasm has previously appeared in an elegant gown, but now she's hitting the beach in a sexy bikini!
Based on an original illustration by Tony, Blanc is gorgeous in her tiny two piece swimsuit that leaves little to the imagination. Its deep purple color really stands out from the rest of her body, and nicely offsets her pale hair and sparkling pink eyes. Blanc is frozen in mid turn as if you've just caught her attention; with her legs crossed she twists around to see you, one arm outstretched for balance while the other playfully runs through her hair. Everything about the girl is cuteness personified, from the happy expression on her face to her adorable flower armband. You even have the option of clothing your Blanc in a diaphanous see through wrap! Sculpted by Kouei Matsumoto, Neige stands 9 inches tall (1/7 scale) atop a special display base.
SKU: Shining Wind Blanc Neige Ani-Statue Swim Suit Version by Kotobukiya-55073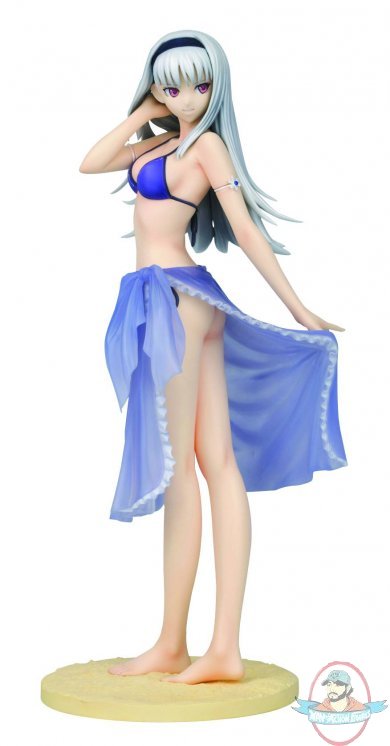 Tags: