Seth Macfarlane Ted Bear 24 Inch R-Rated Plush w/ Sound Commonwealth
Ted 24-Inch R-Rated Talking Plush Teddy Bear Case
This item has features and themes that are for adults only. Ages 18 and up. Recommended for mature collectors.
Not your average teddy bear!
He's the whimsical wonder of Seth MacFarlane's Ted film.
This talking plush says some raunchy stuff!
This case includes 2 individually packaged Ted 24-Inch R-Rated Talking Plush Teddy Bear.
Carry the whimsical wonder of Seth MacFarlane's Ted film around with you! This Ted R-Rated 24-Inch (life size)Talking Plush will keep you entertained for countless hours. He looks so cute and innocent, but he's really nothing of the sort. In fact, he's quite the raunchy little guy when he starts saying stuff. You'd never expect it from a teddy bear, but that just goes to show that you can't judge a book by its cover! You'll love this 24-inch, 1:1 scale Ted Plush, even if he talks and says some bawdy clips from Ted. You can not change the batteries in Ted as they are irreplaceable. They should last about 3,000 hits. Please note that the mouth does not move.
The R-Rated version of the Talking Ted Plush features the following 5 phrases from the Ted movie (subject to change):
"Yeah, I mean, y-you know when you sewed me up you put some of the stuffing in the wrong places so I'm - I'm a little f@!#ed up, but will you take care of me for ever and ever?... Aha! I'm just kidding you! I thought it'd be funny if you thought I was f@!#ing retarded."
"You ever hear a Boston girl have an orgasm? 'Oh yeah! Oh yeah! Harder! Harder! Oh, God, that was so good! Now I'm gonna stuff my f@!#in' face with Pepperidge Farm.'"
"Well you never should've trusted me. I'm on drugs!"
"Alright c'mon, let's sing the Thunder Song. When you hear the sound of thunder, don't you get too scared. Just grab your Thunder Buddy and say these magic words: F@!# you, Thunder! You can suck my d@!#. You can't get me, Thunder, 'cause you're just God's farts (makes fart noise)."
"Oh f@!# that. It's been 4 years, Johnny! You and me have been together for 27 years. Where's my ring, huh? Where's my ring, @!#hole? Where's my ring, mother f@!#er? Put it on my fuzzy finger, you f@!#! C'mon!"
SKU: Seth Macfarlane Ted 24 Inch R-Rated Plush w/ Sound by Commonwealth-67232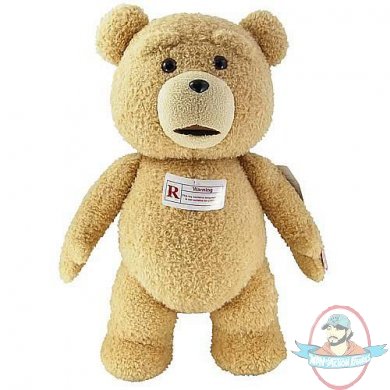 Tags: