Thundercats Mummra Statue
Thundercats, ho! The classic 80's animated series Thundercats lives again in a series of high-quality statues from Hard Hero. Following the Lion-O and Cheetara statues, sculptor Paul Bennett turns his attentions to the series' long-running antagonist, Mumm-ra the Ever-Living. This desiccated, mummified sorcerer dwells in darkness and shadows, living within a sarcophagus within his mystical pyramid. This mystical master is made of cold-cast porcelain and comes fully-painted in a color collector's box.
Mumm-Ra! What great hero is not matched with an equally great arch enemy? From the Iconic Thundercats animated series which first began in 1985, Mumm-Ra continually plots the theft of the powerful Sword of Omens and the destruction of the Thundercats. Now this ancient villain comes to life once again! Produced by Hard Hero and 3rd in the new statue series at 1/7 scale, 10" tall, he also includes Ma-Mutt and Mumm-Ra's sarcophagus, where he rests to replenish his strength to continue his fight with the heroic Thundercats! Comes in full color collectors box, ready for display. Strictly limited edition.
SKU: Thundercats Mummra Statue-53166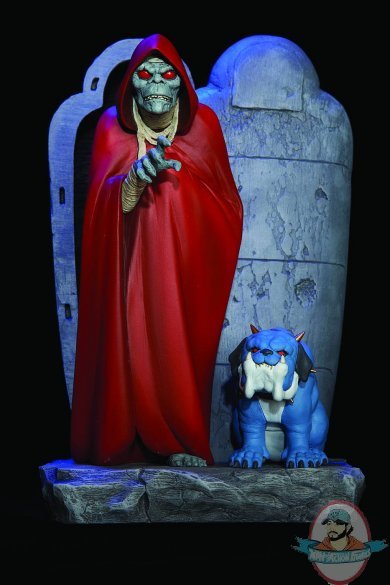 Tags: